NEW HINO 268A REFRIGERATED STRAIGHT TRUCK
Fresh & Frozen Temp Control
22' BODY | 10 PALLET CAPACITY | 10,000 PAYLOAD
This great refrigerated van is ready to go !!
Please contact us @ (800) 200-0404 option 1 or fill out the simple form to the right.
KEY VEHICLE SPECIFICATIONS
Hino 6 cylinder 260HP diesel engine
5-speed automatic transmission
Air brakes
25,999 GVW
238" wheelbase
3-passenger seating
Power windows & locks
Cruise control
22' reefer body poly van FK7
Interior dimensions
Insulated roll up rear door
Curbside side door with stirrup steps
2 LED interior dome lights
14' slide out aluminum walk ramp
REFRIGERATION UPFIT
Thermo King 680 R30 (self-contained)
Cab-mounted digital temp control & display
Insulated body / cargo area
Insulated roll-up rear door and side door
12″ kickplate protection on side and rear walls
WARRANTY COVERAGE
Engine & After Treatment – 5 YEARS/250,000 Miles
Transmission – 5 YEARS/Unlimited Miles
Telematics 1 year/Unlimited
3 Year/Unlimited-Hino Watch 24/7
Roadside Assistance Case Management-5 years/unlimited
Remote Diagnostics- 5 years/Unlimited

Can Result in 25% Fuel Consumption
30% Idle Time
10% Less Daily Mileage
Great Maneuverability and Turning Radius
Less Maintenance
JO8E-VB Engine
– Turbocharged and


…

Intercooled
– Excellent Fuel


…

Economy 7-8 mpg
Industry Leading Design
Light Weight
Very Durable
Better Insulated
Improved Fuel Savings
Less Wear and Tear on Chassis
More Payload Capacity
Less Refrigerated Time
Quick Trip Technology
Electronic Throttling System
Improve Temp Control
Reduced Run Time By 20% Over Previous Models
Reduced Maintenance- Fuel Savings-Extended Life of Critical Components
Scroll Compressor with 87% Fewer Moving parts Over Traditional Compressors
Note: Specifications listed above are customized to your needs and are subject to change. Please verify exact specs on your vehicle with your Bush sales representative.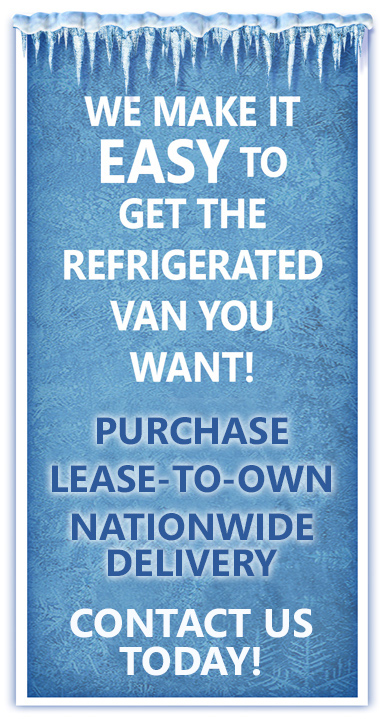 CHECK OUT OUR OTHER GREAT VAN OPTIONS: