NEW CHEVY 3500 REFRIGERATED TRUCK
Fresh & Frozen Temp Control
11' BODY  | 4 PALLET CAPACITY | 3,500 PAYLOAD
This great refrigerated van is ready to go !!
Please contact us @ (800) 200-0404 option 1 or fill out the simple form to the right.
KEY VEHICLE SPECIFICATIONS
4.3L 276HP gas engine
6-speed automatic transmission
9,900 GVW
Interior dimensions

Length – 128″
Width – 83.5″
Height – 71"

Swing out side door on passenger side
Fixed 2 step rung ladder for side door
Air conditioning
AM/FM stereo
Power locks & windows
3-passenger seating
Manual windows/locks
Cruise control
33 gallon fuel tank
Engine Oil Cooler
11' poly van body
Single rear wheels
Full open twin swing rear doors
Full width drop step rear bumper
Poly rice floor
Aluminum rear frame
REFRIGERATION UPFIT
Thermo King V520 NM Max
250 volt/30 amp electric standby to plug in to keep cargo cool when vehicle not running
Cab-mounted digital temp control & display
Insulated body / cargo area
12″ kickplate protection on side and rear walls
Cargo area lighting
WARRANTY COVERAGE

Base – 3 YEARS/36,000 Miles
Powertrain 5 YEARS/60,000 Miles
Under DOT regulations (no log books required)
Estimated 12 MPG
Single rear wheels
Dependable Chevrolet product with nationwide dealer network
Light weight
Very durable
Less maintenance
More payload capacity
Engine driven compressor
Smart power electric standby
Automatic hot gas defrost
Jet cool compressor injection cooling
Jet lube compressor lubrication
DSR microprocessor controller
200 dealer nationwide network
Note: Specifications listed above are customized to your needs and are subject to change. Please verify exact specs on your vehicle with your Bush sales representative.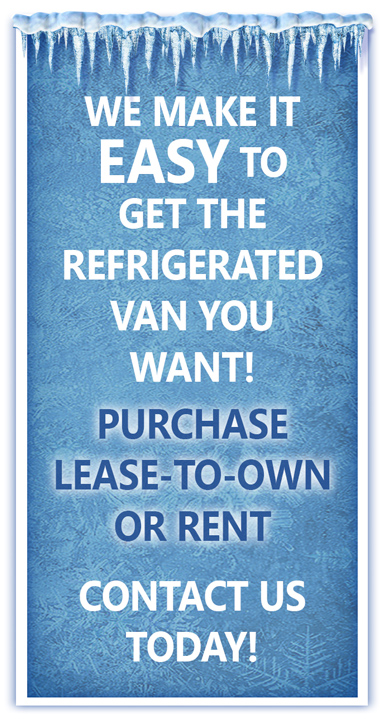 CHECK OUT OUR OTHER GREAT VAN OPTIONS: