USED 2015 FORD DIESEL T350 TRANSIT VANS
Only 2 Trucks Remaining !!


Refrigerated and Frozen Temp Control
LEASE-TO-OWN OR PURCHASE • GREAT PRICES • GREAT CARGO CAPACITY
Bush Refrigerated Vans has several used 2015 refrigerated Ford Transit T350 Vans that are inspected and certified. Please call or fill out the simple online form to get details and mileage on available units.
KEY VEHICLE SPECIFICATIONS
147" Wheelbase
High Roof
3.2L Diesel Engine
Six Speed Automatic Transmission
235/65R16 Tires
9500 gvwr
Engine Block Heater
Cruise Control
Air Conditioning
Oxford White
3" Foam Insulation installed on ceiling, walls and floor
High Density Poly urethane spray on lining – walls, floor and ceiling
Diamond Plate Flooring – ¾ inch plywood sub floor
Diamond Plate kick panel installed on bottom of both sidewalls
Diamond plate installed on side door and rear cargo door sills
(4) LED Interior recessed dome lights with on/off switches located at sliding door and rear swing cargo door opening
(2) Drains in floor and (1) installed in sliding door step well
Roof reinforcement installed for reefer mount
Thermo King V-520 RT50 Reefer WITH HOT GAS HEAT and electric standby 230 volt three phase – Includes mount drive kit and R404A freon
(2) rows of ETRAC installed on each wall
Plastic Refrigeration Curtains installed on sliding door and rear cargo door entrances
Back up alarm
Note: Specifications listed above are customized to your needs and are subject to change. Please verify exact specs on your vehicle with your Bush sales representative.
GET A QUOTE FOR THIS TRUCK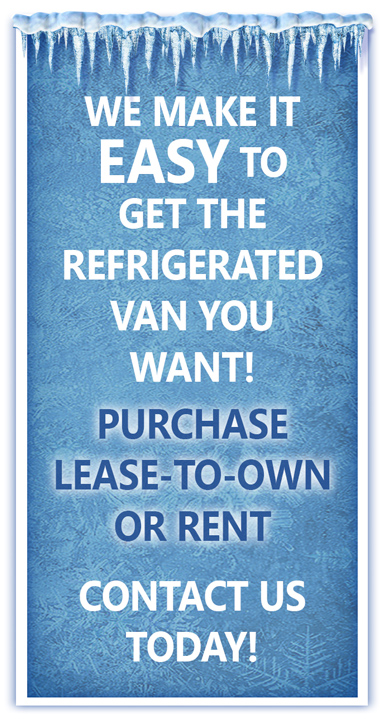 CHECK OUT OUR OTHER GREAT VAN OPTIONS: